Auricular Therapy with Pointer Plus Device
Auricular therapy, also called auriculotherapy, is a natural healthcare approach that uses the same concept of reflexology, considering ear as microsystem representing the entire body. Auricular therapy stimulates the auricle or the outer part of the upper ear to address health issues in the rest of the body. It is a type of acupuncture that balances the energy flow, which runs the body and heals the body. Auricular therapy is widely used for many conditions, including addiction treatment, mood disorders, obesity, pain, and other conditions. This medical system emphasizes a holistic approach to medicine, an approach that treats the whole person. The acupuncture points on the ear help regulate the body's internal organs, structures, and functions.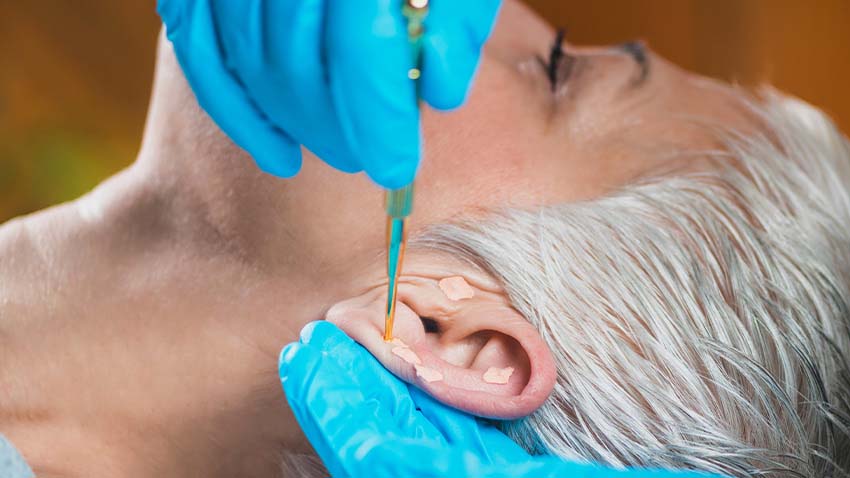 Benefits of Auricular Therapy with Pointer Plus Device
It may help with the following —
Reduce anxiety
Weight gain
Cravings
Insomnia
Pain and other sources of discomfort
Side effects of chemotherapy
How Does it Work?
During an auricular therapy session, the practitioner will inspect specific points on your ear(s) that may be related to your health issue. The practitioner will use a Pointer Plus handheld device that is 6.5" long. It is a user-friendly device that helps to identify your trigger points and indicates with sound and light. The practitioner will adjust the device and place it on the specific points of the ear. The session lasts 15 minutes to an hour, is painless, and may help with your health issue. There is no set number of sessions required for any health condition. Sometimes a single session may or may not be enough, depending on your health problem. People experiencing long-lasting health problems can plan sessions after weighing their conditions.
If you want to learn more about it, schedule a consultation with Wells Family Chiropractic at (224) 213-2729.
ALL-NATURAL TREATMENT & REHABILITATION IN McHenry
The individual care plans at Wells Family Chiropractic can help relieve pain and discomfort
so you can feel stronger and more relaxed when you leave our McHenry office.
Schedule Appointment Now